SGVM 0.3-4.7 tons/hour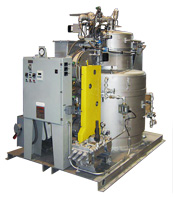 Main applications for AMELIN SVGM series high pressure (up to 200 atm gauge) steam generators include oil and gas, mining, shipping, and emergency response operations. SVGM steam generators have found following uses:
injection of steam into oil and bitumen strata to intensify the oil and bitumen output
deparaffining bottomhole zones, pipelines, and reservoirs, heating up oilfield equipment
extracting minerals, thermal treatment of open-pit coal mine workings
generating steam and heat for merchant and naval shipping needs
deployment of mobile heating units (generating steam and hot water) for harsh climatic conditions, emergency response operations, and supplying steam and hot water to critical urban infrastructure facilities in emergency situations
SGVM Steam Generator Operation Principle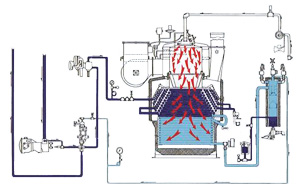 SGVM series steam generators are based on the once-through design with forced circulation. In these steam generators pressurized water is pumped at high flow rates via a series of coil pipes while gaseous combustion products are forced along the external surfaces of the coil pipes. Hot gases envelope the pipes maximizing the utilization of both radiative and convective heat, thus maintaining high intensity of the heat transfer.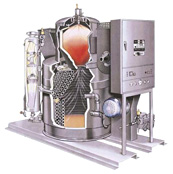 SGVM generators have a positive displacement pump to maintain constant flow of the pressurized feed water. Bypass regulator continuously controls the amount of water fed into the coil pipe responding to changes in the steam pressure. The servocontrol system adjusts the feed rate of fuel and air for combustion according to the flow rate of water to the coil pipes. At the steam separator's outlet 98% of water has been converted into dry steam up to 99%. The remaining 2% of water is removed by the condensate drain.
Economic and Process Advantages of the SGVM Series Steam Generators by AMELIN:
Fast startup and instant shutdown.
The time required to achieve the set thermal capacity never exceeds 3 minutes after cold start.
Quick response to changes in the thermal load.
Instant response thanks to an efficient burner control system and the small volume of the circulating water in the coil pipes.
Stepless power control.
Maximum capacity control range is 13:1 and supports uninterrupted supply of heat to consumers avoiding the need to cyclically start up and shut down the steam generator at low loads, thus bringing extra fuel economy.
Fuel flexibility
Natural gas, propane, and diesel can be used to fire the steam generator. All that has to be done to switch the multi-fuel burner steam generator from one fuel to another is to turn the fuel switch.
Steam generator design
eliminates the risk of thermal shock, even when the plant is started up and shut down frequently, ensures reliable and safe operation, and simple maintenance. Compact design of the SGVM series plants (footprint 50% smaller than that of stationary plants) enables their installation in containers and trailers and deployment as mobile module thermal energy units.
Specifications: SGVM series steam generators
up to 5 tons of steam per hour
Rated capacity: 177 – 2,940 KW
Thermal capacity: 0.15 – 2.53 Gcal
Steam capacity: 0.28 – 5 t/h
Operating pressure range: 0.35 - 20 MPa
Control range: 10:1
Efficiency: 62-95%