SGVС 10-100 tons/hour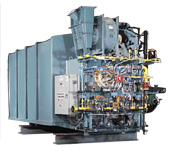 AMELIN Group offers at the Russian market a range of modular tubular steam generators with free circulation, capacity range from 10 to 150 tons of steam per hour and operating pressure from 5 to 100 atm. Steam generators have been designed and manufactured to ASME standards. Their special design is intended to sustain protracted trouble-free operation in different modes.
Steam Generator Operation Principle
Modular steam generator is a unit with integrated steam superheater.
When burnt in the combustion chamber, the air-fuel mixture produces radiative, convective or conductive heat. Hot gas composed primarily of carbon dioxide, nitrogen, and water vapor is referred to as the combustion product. Combustion chamber has 5 or 6 water-cooled jackets, i.e. smooth (sometimes joining) or membrane ribbed walls clad in a refractory material, insulation, or ceramic fiber according to the specific design. Radiative and convective heat transfer goes on in the combustion chamber pipes simultaneously.
This area composed of riser pipes is the main source of the two-phase steam and water mixture. The other main source of the heat transfer are the hot gases leaving the combustion chamber and entering the convective tube bundle. Gas leaving the tube bundle can be fed into another heat exchanger (e.g. an economizer) or directly into the smock stack to be released into the atmosphere. The third form of heat transfer, the conductive one, involves the heat penetrating the enclosure and dissipating in the surrounding space.
Economic and Process Advantages of the SGVC Series Steam Generators by AMELIN:
Small dimensions and weight
– the steam generator is a system offering the smallest footprint in the industry. AMELIN tubular steam generators bring indoor space and construction costs savings while boilers by the competitors can be twice as large.
No refractory lining
– one of the design features of AMELIN steam generators is that air-tightness is achieved through the use of the all-welded gas seal technology. Boiler walls are 100% water-cooled and have no refractory lining, similarly to the burner arch.
Fully automated steam generator
– running steam generator does not need to be continuously attended by operators thanks to the use of start-of-the-art control systems including standard efficient boiler control logic systems, flame failure prevention systems, and custom systems designed to meet the customer's individual needs, and can be controlled from a remote location.
Modular design of steam generators
– steam generators are shipped completely (98%) assembled to reduce the commissioning period and to cut the installation costs.
Fuel flexibility.
AMELIN steam generators are able to burn associated petroleum and natural gas, propane, waste oil, hydrogen, biogas, refinery fuel, diesel, fuel oil, and crude oil. All that has to be done to switch the multi-fuel burner steam generator from one fuel to another is to turn the fuel switch.
Eco-friendliness.
AMELIN manufactures and fits its steam generators with vortex and straight-flow burners with capacities from 20 to 600 mn BTE/hour. Emissions of nitrogen oxides do not exceed 9 ppm (or are under 2 ppm, if the selective catalytic neutralizer-based emission control option is installed).
SGVC series steam generators are able to meet the customer's optimal performance criteria.
Specifications: SGVC(e) series steam generators:
Steam capacity - from 10 to 100 tons per hour
Operating pressure - from 5 to 100 atm
Control range - 10:1
Efficiency - 93-96%
To get further details of the steam generator of interest please fill in the questionnaire form and submit it by fax at +7 (499) 611-5875 or by e-mail: : amelin@amelin.ru
According to our commitment to continuous research and development we reserve the right to change any details on this page without notice.